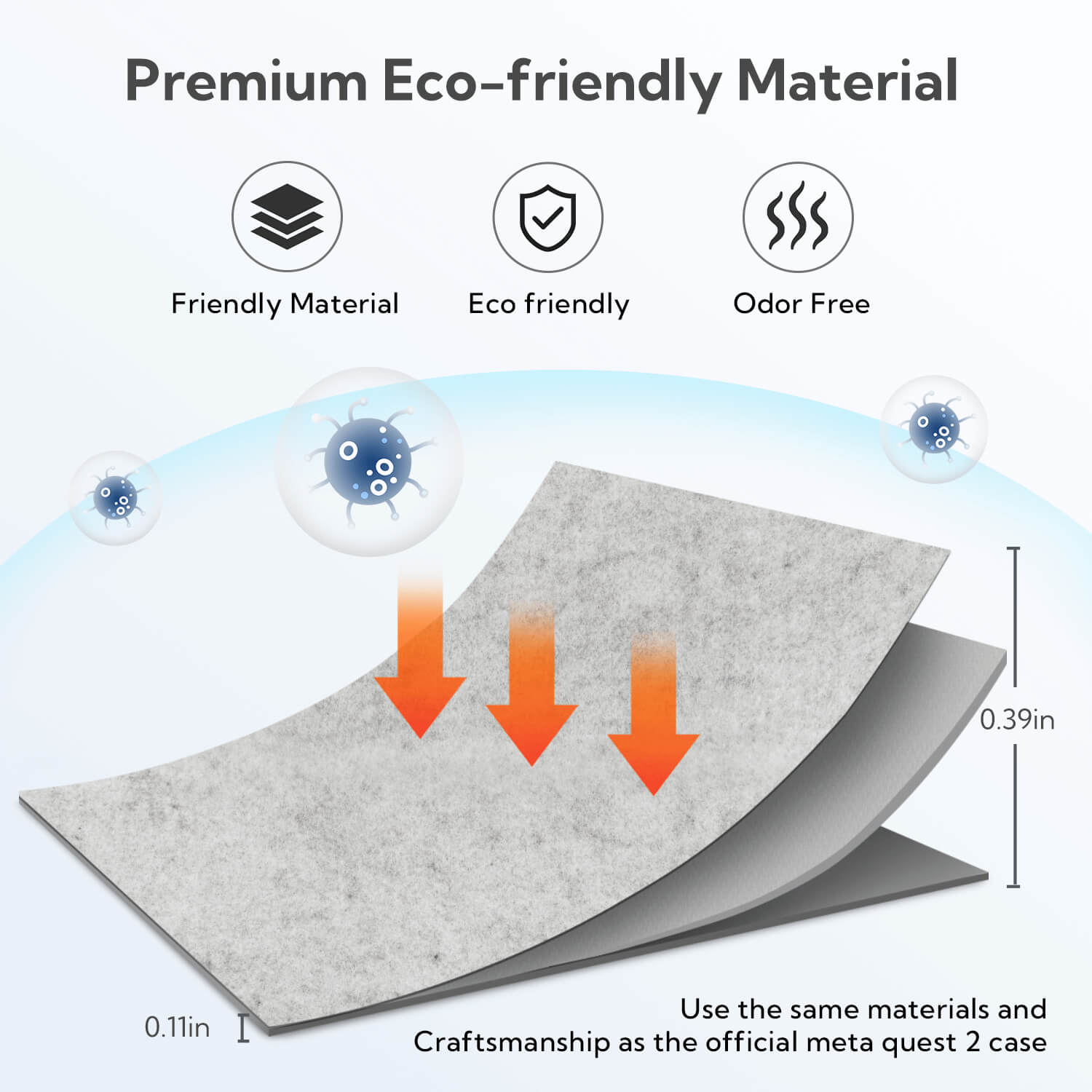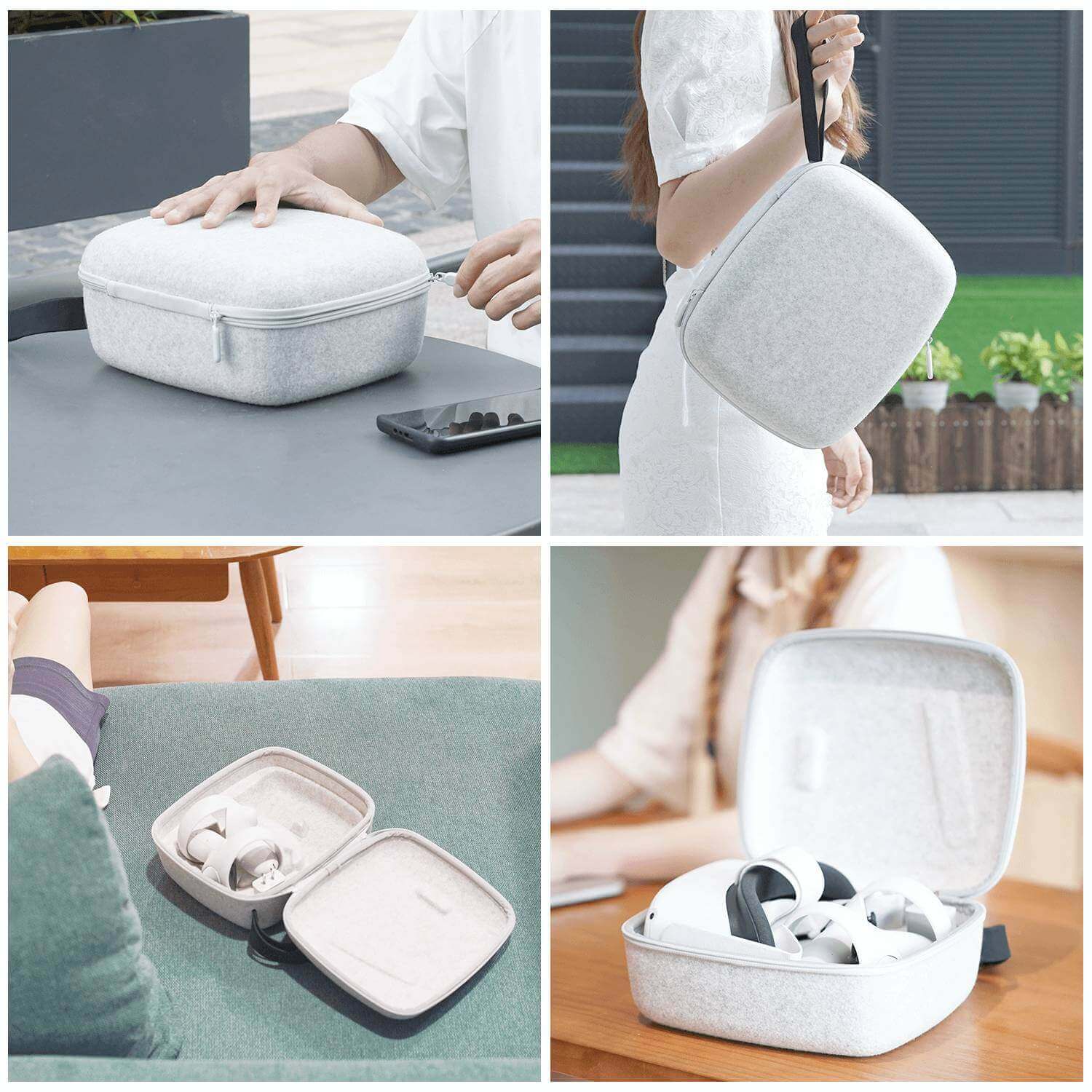 ZyberVR Hard Shell Felt Carrying Case for Quest 2
It Works
It's pretty study and durable, and it does fit both controllers and the headset. It does not, however, fit the battery backup headgear that we have, so that has to get taken off before storage. I'd trust it to protect the system from bumps and drops though, even in luggage or something.
Buy this case and don't overspend
Love this case fits everything perfectly. Don't buy the original occulus case it's way overpriced 40$ just to hold it. I believe at time of reviewing this it's priced at 28 buckaroos and it's a damn good deal for its quality. Buy this one if your looking at cases!
Nice protective case for Oculus 2
This case is sturdy and durable, perfect for my sons oculus quest 2. This case keeps the controllers and headset all in one secure and safe case. The zipper is strong and durable, does not feel cheap. The quality of the case is excellent.
This is an awesome case!
This case is so awesome. Previously, our Meta Quest 2 equipment was kind of piled up on the floor near the charger/outlet - an expensive accident waiting to happen. This is a very nice felted case that perfectly accommodates the equipment in nicely molded sections. The case walls are somehow very sturdy without making the case heavy, and the zipper functions really nicely. There's a wrist/hand strap on the outside corner so you can carry your stuff around like a boss. We are super happy with this awesome little case!
Gets the Job Done
I am most pleased with this product. It is sturdy and definitely holds my headset well. It even came with a small foam piece to protect the inner screens. One downside I encounter is the material it is made of seems to attract fuzz and pet hair, but other than that I am happy with it.
Simply perfect
Perfect! Absolutely nothing to complain.Great quality, perfect size, perfect match for our Oculus. Love the material, very soft and light.Really very happy with my purchase
Hard Case for Meta Quest
This case is an Hard Case, my Meta was just sitting on my stand, and now I can place it in this hard casing without worrying about it getting dusty. My Meta and controllers fits in this case perfectly, and it has a plain gray look and doesn't look out of place in my living room. Now my Meta can also travel in style.
It works
While this isn't a hard plastic case it does feel sturdy, and I have no fear of a small drop breaking anything inside it. The headset and both controllers fit neatly inside and don't move. Even came with a soft fabric piece to put over the lenses so there is not fear of the controllers someone bouncing against them. Perfect for storage and travel.
Good Case for my Quest 2
When I first received the product to put my quest 2 in, I was very confused on how to insert the controllers (which could been user error). With that being said, I figured it out and everything fit in there nicely. The case does have some rigidness to it and dropping it from a reasonable height (about 3 feet) it held up well with no dents or blemishes. Overall, I am pretty satisfied with the case and is definitely a worth while product!
Great compact carrying case for Quest 2
This case is very similar to the "hardshell" cases that high end headphones come with. Not "hard", but flexible and resistant to impacts. This is a great case for fitting into carry-on luggage, as it will fit in most backpacks without taking up too much space, as shown in the second picture above.My only complaint, which is not a fair one, is that I can't fit my controllers in the case with their extended grips installed, which it was not designed for. Not their fault. HOWEVER, I can fit ONE of the controllers, as shown in the first photo above, which leaves space for other accessories. If bringing both controllers, I will simply have to have one elsewhere in my luggage. This is not their fault, but mine. So, don't make my mistake and fail to take accessories you've installed into account when fitting your Quest into this case. It states in the description that it does not support controller grip covers.This case in particular is protective, but flexible, which makes it ideal for backpacks and carry-on luggage or any time you'll need to squeeze it in somewhere.My only issue is that it advertises it's for Quest 2 "Accessories". Unless you consider the controllers accessories, it really is just for the unit itself, the controllers and the power brick and cable. No room for any other accessories, unless like myself you are leaving one of the controllers out of the case.It also comes with a soft cover for the eyepiece, which will protect your lenses from any thing that might move around in the case during travel. It isn't mentioned but is shown in one of the product photos.