ZyberVR Quest 2 Charging Dock With Battery Charging Slots
Magnetic Charging
No need for complicated steps, it can be charged automatically when you put it on.
High Speed Quick Charge
Compatible with both headset and controller's batteries. Blue and orange lights distinguish the charging status clearly.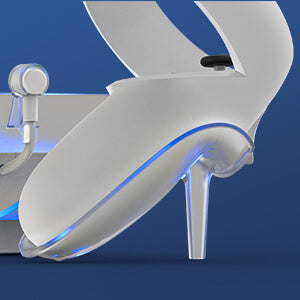 Controllers Storage
The design fits perfectly with the handle, just enough to put the handle down.
It's pretty but you need some space
It looks awesome, I'll give it that. the main base has detachable arm pieces to hold your controllers on the sides like wings. They rest in there ok. I have custom grips on my controllers so they don't sit firmly in place, very small gap. It is pretty cool that the one connection to the headset feeds recharging to the controllers.The plastic controller handles are frosted plastic to let the light do its thing which is a muted blue light that's non obtrusive (orange when actively charging your batteries). You can turn the lights off if you want but that's half the cool factor. Found it's a bit wide for options but adds to the showcasing of your Oculus. Big plus is no detaching cables to grab handsets and play.
Very satisfied
I love this VR docking/charging station... It charges fast and looks cool while doing so. The magnetic piece makes charging easier. It came with everything I needed and delivery was fast.
Works well, would be perfect for a non-modified system.
This stand is actually really good, it comes in a small box and is easy to snap together. The headset sits in a cradle with the included magnetic charger adapter snapping into the charging port. It works well and the entire rack turns orange to let you know it is charging, then turns blue when complete. Each hand set goes into the side racks, but if you have modified the hand sets (as I have) they don't sit very well. The stand came with two rechargeable batteries which charge in an area under the headset. The area is made for two in the charger and two in storage. The batteries have a separate light to let you know they are charging or done. The headset can be a little heavy to the back so you will have to put it on a table, but as you can see, we use this one all the time and are very pleased with it.
Great choice for a Oculus Quest 2 Charging Dock.
I got this for my son, so He can be alittle bit more organzied with his electronic devices. The batteries lightup when they are charged up. It looks pretty cool at night. Everything fits perfect ! So far so good no issues.
Nice unit
Came with batteries, nice blue light
I like to stay clutter free and organized!
The headline says it all. I hate how many cords we have for everything that needs charged on a weekly basis, so anything that helps with that is a win in my book! Before, my son's oculus was sitting on the kitchen counter charging nightly. Now he can easily charge it before bed upstairs where it's out of the way! He's also noticed this will charge faster than the cords.Overall, great value!
Love the convenience of leaving my Oculus out and ready to go!
My household is an Oculus household, between my son and I that both own our own Oculus, my husband and daughter use it almost as much as we do! This charging dock was perfect for the living area, once we finish using the Oculus, we can set it down on the charging doc and its ready for anyone that wants to use it next! The dock itself is a battery charger so we have saved so much money on buying batteries! Very convenient if you don't want to pack it away after each use! A must have for an Oculus owner/lover like me!
Looks good, works great!
I love that it has a soft blue light on it. Works well. Keeps components in one spot and charged! I couldn't ask for more!
Works well for charging
To put together this dock you have to slide the plastic pieces for the controller into the main unit. One side went in well but the main unit was cut small on the other side and it was near impossible to add the other plastic piece for the controller. In addition, the controllers side off the side all the time. They aren't designed that well to hold the controllers in a way that they don't just slip off.It does seem to do a good job charging the headset. There is a magnetic piece you put into a port on the headset and then it connects to the headset magnet to start charging. Red means it is charging and blue means it is charged. I like that it comes with two rechargeable batteries and a charger for the controllers.Overall, it is nice to keep the oculus off the ground but I feel like there could be better assembly (the holes to insert the holders for the controllers were not cut well) and the controller holders aren't all that great.
Convient charging for headset, not quite as convenient for controllers.
It's a nice charging stand overall, it just slightly misses the mark when it comes to the controllers. While there are rechargeable batteries for them, you have to keep taking them out to recharge them. There are other stands around the same price that let you recharge the controllers by just dropping them in the stand with the headset.This just misses the mark for the price. Maybe $10 or so less than the current $50 and it would help separate it from the competitors a bit more.Overall a decent set that does the job.